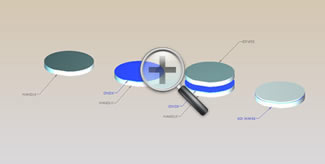 I ceMOS Technology has developed and is offering a Thin-SOI wafer range with device layers < 1µm. Building on the 20+ years of SOI manufacturing experience, IceMOS is offering the same high-quality product as our existing Thick-SOI wafers for RF Applications.
With the wide range of specifications for both silicon wafers and the thermally grown Buried Oxide Layer, the IceMOS Thin-SOI wafer range covers applications such as Silicon Photonics to SAW filters.
Our customised Thin-SOI solutions are suitable for the following fields:
• RF Filters
• Optoelectronics
• Image Sensing
• Wireless Connectivity
• Flexible-Hybrid Electronics
• RF MEMS
By making continuous improvements to our processes in a Lean Six Sigma environment, IceMOS Technology offer world class product quality, competitive cost structure plus rapid turnaround makes IceMOS Technology your ideal SOI partner.